Kiwanis Club honors students for following the Golden Rule | Local ... - Chippewa Herald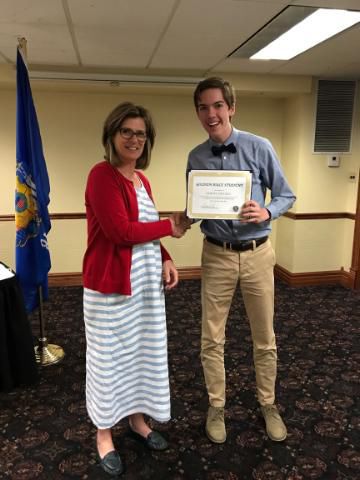 McDonell Central Catholic High School student Samuel Zwickel and Chippewa Falls High School student Tim Wollman were recently honored as May "Golden Rule Students" by the Chippewa Falls Kiwanis Club.
In honor of their recognition, Kiwanis Club of Chippewa Falls donated $25 to the charity of the students' choice.
Zwickel, son of Thomas and Susan, selected the Boy Scouts of America Chippewa Valley Council. Wollman, son of Michael Wollman and Aimee Wollman Nesseth, chose the World Wildlife Foundation.
Throughout the year, the Chippewa Falls Kiwanis Club chooses seniors from Chippewa Falls Senior High School and McDonell Area Catholic Schools, nominated by the respective schools' teaches and staff, using specific criteria including, among others:
respect for all nationalities, race, ages and gender
would be willing to stand up for the rights of others
active in doing community service
taking responsibility for one's own actions
The Chippewa Falls chapter meets on Wednesdays at noon at Avalon Hotel and Conference Center. For more information about the Kiwanis Club of Chippewa Falls, visit www.chippewafallskiwanis.org.